Learn about 20 different chatbot ROI metrics that your organization can start tracking and calculating after implementing a chatbot. I know that creating value propositions as well as tracking the effectiveness of your bot may be hard, but this will allow you to at least get a head start on important things your bot should be able to track from the beginning.
If your company is looking towards developing and implementing a chatbot, a preliminary assessment on the return of investment is a smart idea.
In my experience, there is often a slight hesitation when the idea of a deploying a chatbot in a contact center or as a first line mechanism for any type of support due to the concern of potential dissatisfaction of the experience. However, these initial presumptions are often unfounded. Chatbots and conversational agents have come along way since the days of Microsoft's Clippy.
These days, NLP and AI-powered chatbot and conversational agents are smarter, more intuitive, and can yield a better return on investment. In addition, chatbots can be predictable and can positively transform the way your employees and customers interact with your brand while improving your bottom line.
Through the user of conversational AI technologies, your business can decrease business total cost of ownership, increase productive use of human capital, increase client satisfaction, and retain human talent.
Chatbot ROI Overview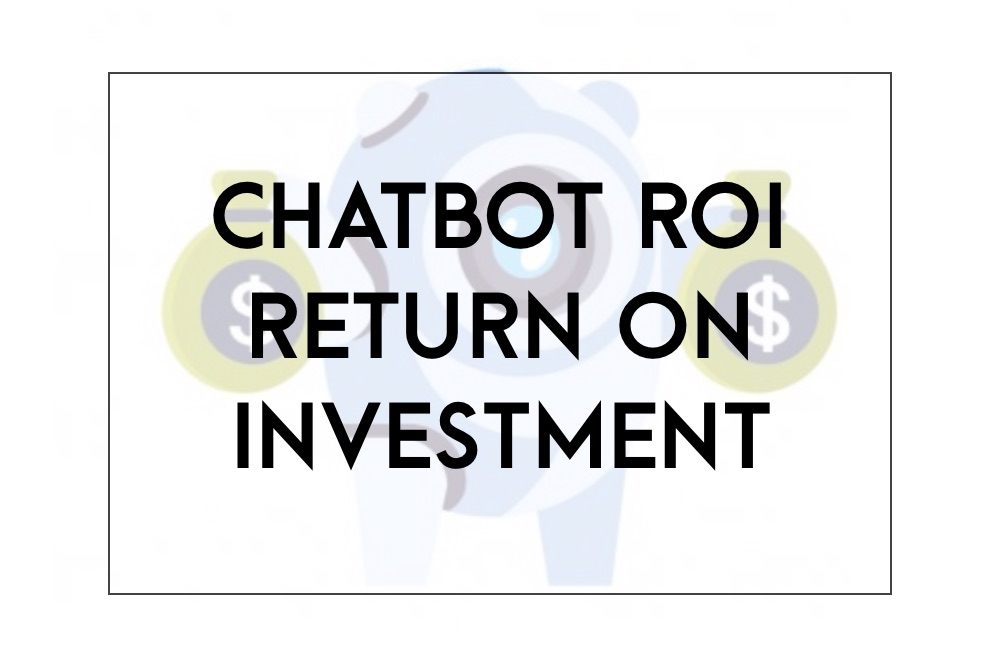 Chatbot ROI can vary according to the purposes it is designed to serve for a company or an organization.
Today, over 50% of consumers already engage with a chatbot in some form or fashion. Furthermore, 80% of organizations call AI powered chatbots important and 61% of companies plan on implementing one in the near future.
All in all, most forward thinking businesses are thinking of ways to scale their businesses or utilize the resources that they have by way of using conversational agents and chatbots. If you read anything about chatbot industry statistics and trends, you'll notice that the large businesses that have invested some research and development into this space have seen a positive outcome.
Overall, you can divide the chatbot implementation benefits into cost savings or income generation.
Chatbot ROI Myths and Assumptions
Implementing a chatbot takes a long time.
Implementing a chatbot does NOT have to take a long time. There are a multitude of platforms that support small businesses (like Dialogflow) and large enterprises (like Kore AI). They are cost effective when implemented in a streamlined approach.
Chatbots are only for big companies.
Chatbots can serve both big and small companies. For larger companies, a chatbot can help serve up documentation or frequently asked questions to as first line support. For small companies, they can also use it as first line support to help scale their minimum support system. What's more is that having a chatbot can be the first step for a small business to scale globally and support their clients and customers 24/7.
ROI is only about the money.
While the investment in a chatbot can result in savings, there are other calculations like lead generation, satisfaction rates of employees and customers, and process improvements that can be measured as well.
Besides cost, a chatbot can drive revenue and deliver several other indirect benefits. If programmed accurately, a chatbot can generate leads and drives sales by cross-selling and upselling. Chatbots can learn from previous interactions and instances, allowing them to become intelligent in recognizing windows of opportunities to capture a potential client prospect, upsell to an existing customer, and ultimately making a sale.
For example, with a chatbot, employees have more time to focus more on in-depth conversations and problem solving for clients and customers. When chatbots return time to live human agents, it allows more attention to consumers who need higher level help with their interactions. This can result in consumer loyalty, thus a larger ROI.
Calculating ROI with Chatbot Implementations
KPI tracking and business insight analytics are the backbone of most smart, forward thinking businesses today. Almost every business activity is tracked, measured and mapped to the overall contribution to the bottom line. With this in mind, chatbots already have a baseline on what metrics it can help improve.
In almost every team or business meeting, there are discussions around metrics in order to quantify and drive revenue and profitability. Being able to do the same for implementing next-generation technology in chatbots using AI, NLP and ML along with big data may seem daunting, but not impossible.
In this post, I'm going to share with you some example metrics you can use to prove out the ROI of a chatbot.
Key Performance Indicators
Below are some key performance indicators that your team can track in terms of implementing a chatbot.
Cost Savings
Conversions and Deflections
Operational Efficiencies
Satisfaction
Cost Savings
Cost savings can include reduced call times and hold time for customers as well as increasing calls for revenue generation.
Conversions and Deflections
If clients and employees are finding information that they were looking for that would have required a human agent before, that is a time savings that you can track and measure.
Operational Efficiency
The ability to have your agent answer calls at any time of day when a human agent wasn't available before can also be counted as your company now being able to scale. In addition, having insight to the questions that your clients are asking along with capturing potential leads is also something that can be measured.
Client and Employee Satisfaction
Chatbots can help streamline communication, create more curated content that is more helpful, as well as provide instant answers at the point of need. This is something that can be measured within the chatbot within a survey after the interaction.
How to Start Pre-Calculating ROI for Implementing a Chatbot
Identify eligible questions that a chatbot can answer
Calculate percentage that would go to a chatbot, and those that would be routed to a live agent
Of those that would go to a chatbot, calculate current time spent in the process before implementation subtracted by the time after a chatbot implementation
Estimate annual cost savings with the difference multiplied by the number of questions
Gather all the baseline information around employee/client satisfaction and current number of potential leads
Create a process to continue calculating these metrics month over month
ROI Measurement Differences Between Employee Chatbot and Client Chatbot
When measuring the success of a chatbot, there are differences between implementing one for employees versus ones for a client/customer facing chatbot. However, there are also similarities that they share as well. Below, I'm sharing the types of ROI tracking that you can start measuring in both instances.
Employee Chatbot
Chatbot As an Employee
Self Service time saving because there is one place to go instead of searching multiple channels, allowing for quicker onboarding and knowledge sharing
Chatbot features that simplify multi-step workflows for looking up pertinent information
Increasing employee satisfaction due to less friction to knowledge
Chatbot as an Employee for Internal Support Functions
Deflecting the need for meetings by increasing user engagement on existing content

Allowing for prioritizing meetings for complex and pressing needs
Reallocation of resources due to time savings
Employee satisfaction due to higher value project resourcing

Better insight on content usage and proving out ROI for self-service content creation
Client Chatbot
Customers and Clients
Self service time savings with one engagement channel that can source from multiple knowledge bases
Ability to simplify multi-step workflows for knowledge seeking
Client satisfaction with less friction to engage the company
Reduction of cost of mistakes from human and operational error
Employee Teams Conducting External Sales, Consulting, and Support Functions
Increase ability for lead generation
Increase revenue from better service an upsell opportunities
Deflect personal interaction by increasing engagement with clients on existing content

Allowing for prioritizing meetings for complex and pressing needs
Reallocation of resources due to time savings
Employee satisfaction due to higher value project resourcing

Better insight on client content usage and proving out ROI for self-service content creation
Overall Investment Costs
A chatbot is not as expensive as you might think, and all industries and companies of all sizes can quickly see benefits. Whether you are running a free version of Google Dialogflow or an enterprise version of a platform, chatbots can be implemented at various pricing levels. The benefit of a chatbot is that it can be scaled for a low cost, meaning that if a chatbot serves a smaller audience, there is less cost to do a proof of concept. Below are some examples of costs that you might incur as you start your ROI calculation baselines.
Subscription and Licensing Costs
Most platforms will have a subscription service for their cloud-based chatbot. If you want to keep data for long periods to analyze, you'll often want to pay money to save that data. Those considerations need to be thought through as you choose the platform.
Implementation and Professional Services Cost
Often, a chatbot company may have separate costs for implementing a chatbot as well as helping your organization calculate the ROI on the chatbot. Often, I find that the implementation services follow the bot lifecycle development process, and they have just created standardized processes for it.
Maintenance Cost
If you are wanting to continue making your bot smarter, understand what people are asking of your bot, you'll need to have a team of software developers and data analysts (see skills needed for chatbot development) to provide you with information to drive the direction of your chatbot development. Ultimately, the data in the conversation logs should drive what work you do next.
Communication Cost
When implementing any type of new tooling, the ability to provide organizational change management and communication plans will be important to ensuring the adoption of your chatbot.
Run a Proof of Concept
If your company is unsure, you can always run a proof of concept to test your ROI assumptions before going all in with the project. Just ensure that you have a hypothesis before starting the project.
Summary of Chatbot ROI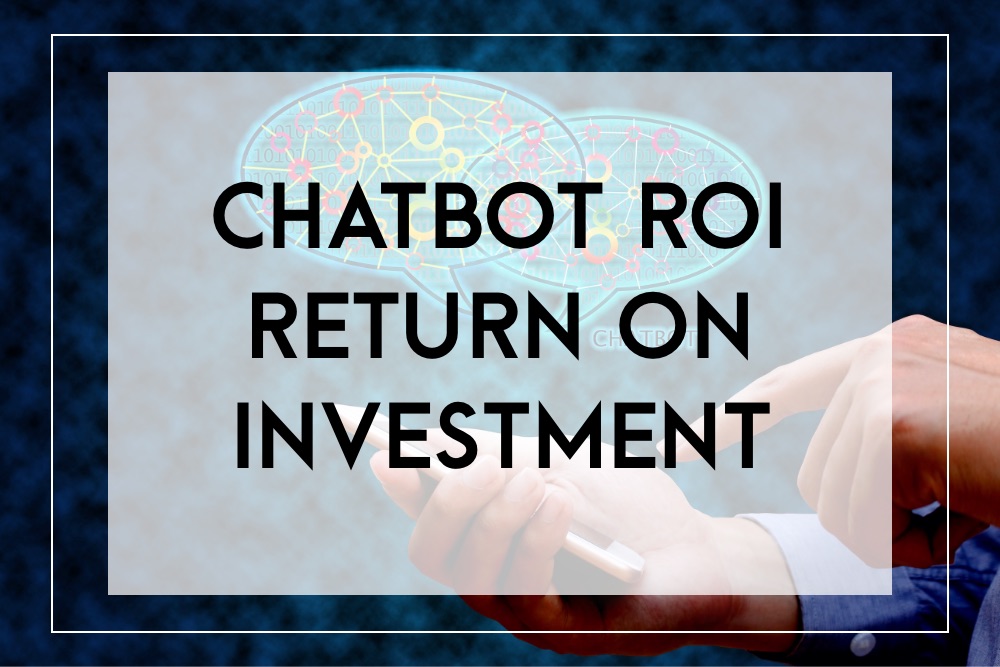 By 2025, researchers predict that chatbots will accomplish more than 90% of business to consumer interactions and cut operational costs by more than $8 billion in the next three years per year. Global businesses spend over $1.3 trillion annually to handle over 265 billion customer calls.
Determining the expected ROI for implementing a chatbot is a critical step in any project implementation. While it's not always possible to expect a high ROI, you can at least exercise the calculation of an ROI so you can challenge assumption of cost savings of the project and disconfirm any preexisting beliefs. The more powerful a chatbot, the better the success rates and ROI.
Other Posts You Might Like
Many of the links on this blog are affiliate links. ChatbotBusinessFramework.com receives a small comission when certain items are purchased, but the price is the same for you. ChatbotBusinessFramework.com is a participant in the Amazon LLC Associates Program, an affiliate advertising program designed to provide a means for sites to earn advertising fees by advertising and linking to Amazon.com.