Learn about industry trends, adoption rates, growth metrics, and future trends with these chatbot statistics.
If your company is deciding whether or not to implement a chatbot within your business ecosystem, then knowing where the industry is at and where it is headed will let you know if you have a chance at success. In the next decade, the chatbot industry with the rise of big data, machine learning, and artificial intelligence, chatbots are going to reach more of their audiences in order to achieve their goals.
There are a multitude of reasons why businesses are turning to chatbots for help with streamlining their business. A chatbot can help nurture potential clients, increase retention rates for employees, provide a personalized knowledge stream for users, and automate tasks without human intervention.
Although big businesses are investing in the research and development of chatbots, a large portion of small business owners are also considering implementing chatbots within their businesses. In order to understand where the industry is headed, I wanted to share a some chatbot statistics and numbers so you can wrap your head around this new technology that has yet be fully adopted.
Chatbots have found success in customer service and real estate industries, and the use cases will only grow from there as we learn and trial out the full extent of the potential of utilizing chatbots.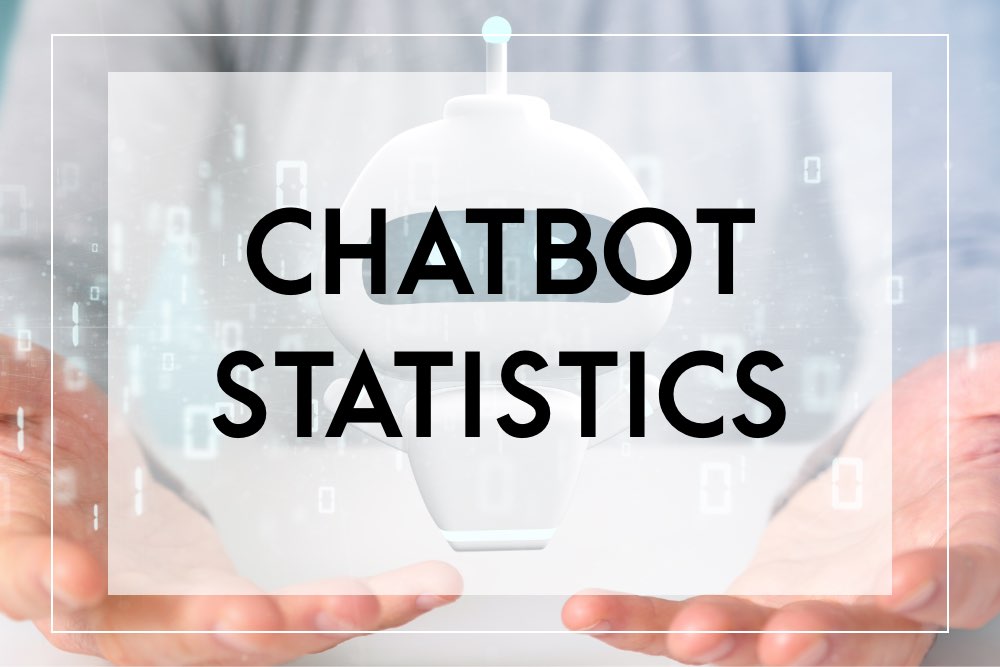 Chatbot Industry Statistics
#1. According to Opus Research, chatbots will see an estimated investment of $4.5 billion by the year 2021 (Opus Research).
#2. The chatbot market size is projected to grow from $2.6 billion in 2019 to $9.4 billion by 2024 at a compound annual growth rate (CAGR) of 29.7%.
#3. The chatbot market value was at $703 million in 2016. (Outgrow, 2018)
#4. Worldwide chatbot market is expected to reach $1.23 billion by 2025, an annual growth rate of 24.3%.
#5. By 2024, AI will become the new user interface by redefining user experiences where over 50% of user touches will be augmented by computer vision, speech, natural language and AR/VR (IDC).
#6. The top five countries in terms of chatbot use are the USA, India, Germany, the UK, and Brazil.
#7. The top industries profiting from chatbots are real estate, travel, education, healthcare, and finance. (Chatbots Life, 2019)
#8. 1.4 billion people are using chatbots.
#9. 1.40% of the adult population is in the practice of using Voice search on daily-basis.
#10. 100 Million+ voice bot enabled devices were sold in the year 2019. (Botmywork, 2019)
Chatbot Business Strategies and Planning
#11. By 2020, 30 percent of all B2B companies will employ artificial intelligence (AI) to augment at least one of their primary sales processes. (Gartner)
#12. In the 2019 Gartner CIO Survey, CIOs identified chatbots as the main AI-based application used in their enterprises (Gartner).
#13. 50% of businesses plan to spend more on chatbots than on mobile apps.
#15.80% of businesses are expected to have some sort of chatbot automation by 2020. (Outgrow, 2018)
#16. Only 0.5% of B2B companies use chatbots.
#17. Companies with between one and 50 employees use chatbots more than others.
(Think Relay)
#18. 47% of organizations will use chatbots for customer care and 40% will deploy virtual assistants.
#19. By 2021, more than 50% of enterprises will spend more per annum on bots and chatbot creation than traditional mobile app development (Gartner).
#20. A Statista study demonstrates that over 64% of business respondents believe that chatbots allow them to provide a more personalized service experience for customers (Statista).
#21. The insurance sector will also benefit from AI including chatbots with cost savings of almost $1.3 billion by 2023, across motor, life, property and health insurance, up from $300 million in 2019.
Chatbot Business Savings Trends and Statistics
#22. 5 billion hours projected time savings for businesses and consumers from chatbots by 2023 (Juniper Research).
#23. 265 billion customer requests are recorded per year and businesses spent nearly $1.3 trillion to address them. Using chatbots could help save up to 30% of this cost. (IBM)
#24. Chatbots can help businesses save on customer service costs by speeding up response times and answering up to 80% of routine questions.
#25. According to Chatbots Magazine, businesses can reduce customer service costs by up to 30% by implementing conversational chatbot (Chatbot Magazine, 2019).
#26. Shell achieved a 40% reduction in call volume to live agents by answering 97% of questions correctly and resolving 74% of digital conversations with its Teneo based intelligent virtual assistants – Emma and Ethan.
#27. A 2% increase in customer retention has the same effect on bottom line as decreasing costs by 10%.
#28. $0.70 projected chatbot cost savings per customer interaction (CNBC).
Chatbot Platforms and Specific Business Use Cases
#29. 94% of respondents to Kindred's survey rated its conversational AI betting solution as 'innovative' – the key brand measure for the project.
#30. There are over 300,000 chatbots on Facebook. (Venture Beat, 2018)
#31. Blue-Bot sent two million messages to more than 500,000 customers in 2018.
#32. Most advanced conversational systems can solve 80% of queries automatically because of their high level of understanding, often achieving 98% accuracy.
Chatbot Statistics on Customer Interaction
#33. 85% of customer interaction will be handled without human agents by 2021.
#34. 64% of internet users say 24-hour service is the best feature of chatbots.
Chatbot Customer Perception and expectations
#35. 67% of consumers worldwide used a chatbot for customer support in the past year.
#36. 65% of consumers prefer messaging apps and connecting on chat than customer call support. (Botmywork, 2019)
#37. 27% of consumers are interested in artificial intelligence support tools.
#38. 47% of users are open to purchasing items through a bot. The chatbot stats shows that most of the buyers trust chatbot as the best way to interact with businesses.
#39. 50% of consumers prefer shopping online from the stores where they can connect over chat. (Botmywork, 2019)
#40. 37% of consumers expect to receive quick responses during emergencies. (Drift, 2018)
#41. 40% of consumers do not care whether a chatbot or real human helps them, as long as they are getting the help they need.
#42. Over 50% of customers expect a business to be open 24/7. (Oracle, 2016)
#43. 67% of US millennials said they are likely to purchase products and services from brands using a chatbot. (Chatbot Magazine)
#44. More than 35 million American use voice-activated, personal assistants at least once a month. (Aquire.io)
#45. Oracle surveyed more than 800 marketing professionals on the adoption of chatbots, and found that 80% of brands expect to serve customers through chatbots by 2020.
#46. Engaged customers purchase 90% more frequently than average customers and spend 60% more per purchase.
#47. 63% of consumers think businesses should be on Messenger.
#48. 47.92% of men use chatbots if they can't find answers to simple questions.
#49. 48.78% of female shoppers like chatbots and use them as a channel of communication when buying online.
#50. 27% of adults in America have used chatbots for shopping at least once in their life.
#51. Baby boomers are more likely to expect benefits from chatbots than millennials.
#52. 1 in 5 consumers would potentially buy goods and services from chatbots. (Ubisend, 2017)
#53. 95% of consumers believe "customer service" is going to be the major beneficiary of chatbots
#54. An independent survey found that over 70% of people wished their voice assistant understood the context of their conversation better, with 40% abandoning the application when it didn't.
#55. PSFK says that 74% of consumers prefer chatbots when they're looking for instant answers. With companies that use chatbots in retail seen as efficient (47%), innovative (40%) and helpful (36%).
#56. Twice as many consumers surveyed in 2019 would knowingly engage with chatbots because they are "very helpful," compared to 2018 respondents; 83% of consumers said they'd make messaging their primary means of contacting customer support if they could be guaranteed an immediate response (Helpshift).
#57. 77% of customers say chatbots will transform their expectations of companies in the next five years. Given the choice between filling out a website form or getting answers from a chatbot, only 14% of customers would choose the form, according to this survey (Salesforce).
#58. 63% of people trust chatbots with their most sensitive information.
Related and Frequently Asked Questions About Chatbot Statistics
What qualifies as a chatbot?
A chat bot is a conversational agent that is programmed and designed to simulate a conversation with a human being via text chat, which allows automating responses in real-time. Some chatbots are designed to re-learn by using artificial intelligence and machine learning by taking feedback and looping it back to it's knowledge corpus.
Are Siri, Alexa, and Google Home a chatbot?
Siri, Alexa, and Google Home are considered virtual assistants rather than a chatbot. Within the industry, conversational agents are the terms used to categorize chatbots and virtual assistants together.
Mass perception tends to make the assumption that voice assistants are also chatbots, when in fact, they are not.
What's the difference between a chatbot and virtual assistants?
While chatbots and virtual assistants are categorized under the more general term of conversational agents, they are actually two different underlying technologies. Interactions with chatbots are through messaging applications whereas virtual agents exist outside of these engagement channels.
Summary of Chatbot Statistics
The rise in popularity of chatbots and how it can help create efficiencies in businesses and provide a better customer experience.
With the buzzwords of AI and chatbots becoming popular and introducing new audiences into the industry, there is more attention being brought to how chatbots can work for both businesses, consumer, and even employees.
Chatbots can help deliver the best in class online services on a multitude of platforms like never before. I hope these statistics will help you discover the potential of chatbots, current trends and statistics, effectiveness of chatbots, and the rate of adoption that we are seeing across the industry.
While human touch is irreplaceable, chatbots can do a pretty good job at helping alleviate situations where an uplift is needed.
Related Posts
Many of the links on this blog are affiliate links. ChatbotBusinessFramework.com receives a small comission when certain items are purchased, but the price is the same for you. ChatbotBusinessFramework.com is a participant in the Amazon LLC Associates Program, an affiliate advertising program designed to provide a means for sites to earn advertising fees by advertising and linking to Amazon.com.