In this post, I'm going to share with you the value proposition, business strategies, and benefits that can be garnered by implementing a chatbot.
If your organization has plans to or at the point in deciding on whether or not to implement a chatbot, I'm going to share with you a few value propositions that can help you educate your leadership team on the benefits of having a chatbot.
Understanding the Value Proposition Process for Your Organization
With most enterprise demand management processes, you will need to submit a value proposition and convey the benefits and the types of business problems that implementing a chatbot can bring.
Often, the push back that you might receive from initiating a discussion to invest in the development of a chatbot is providing a full evaluation of the kind of quantitative value a chatbot can bring into an organization.
In the year 2017, chatbots were the buzzword and the hype had never been greater. However, for a time, there wasn't a lot of clarity around true KPIs and success metrics around chatbots.
Fast forward to a few years later, chatbots have matured and are gaining momentum in both big and small businesses due to the clarity around the success metrics and conversion rates that can be attributed to implementing a chatbot.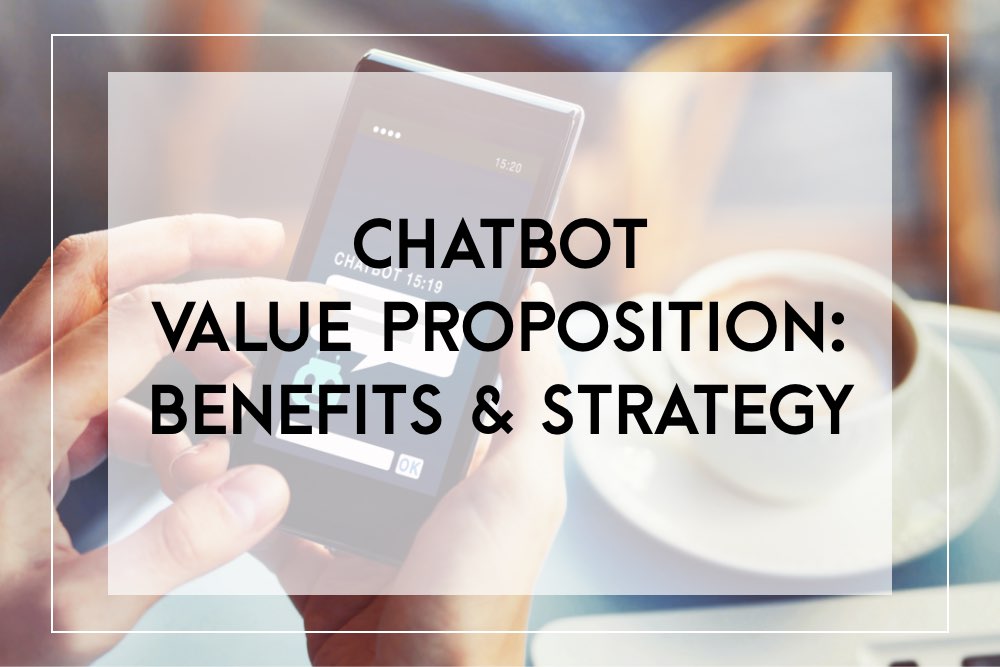 As Chatbots Mature, So Does the Clarity Around Their Benefits
Chatbots are generally an organization's first foray into using artificial intelligence. While most organizations may not have large budgets to implement AI in edge cases like self-driving cars and robotics, chatbots are a great alternative to explore an innovative medium to help drive business outcomes.
Now that the industry has had three years to explore what the technology has to offer, chatbots are now providing more clarity than ever on the value that they can offer.
Chatbots have been expanding in popularity due to the rapid emergence of artificial intelligence bots. They have seen exponential growth and rapid adoption across consumer and enterprise level audiences.
Approximately 80% of businesses expect to implement a chatbot this year, which speaks to the maturity of the analytics model.
I'm going to share with you the value propositions that you can use for your C-suite. As a product manager who has managed programs for chatbots, I understand the uphill battle of getting the greenlight for an investment in new technology that is continuing to mature.
I hope this will help guide your presentations and conversations around implementing a chatbot to help drive results in your organization.
Chatbot Value Proposition
Even though chatbots are still at the beginning phases of the journey and continually learning and iterating, it is a great time to be joining in the journey of implementing this sophisticated technology.
If I had to generalize, the value proposition of a chatbot is the immediacy of the response it provides as well as the frictionless experience of making engaging unobtrusive and organic.
To go further, there are two perspectives when looking at the value proposition for a chatbot:
from the business outcomes point of view
from the user/consumer point of view
Business Strategic Value Proposition
For an enterprise and small business, chatbots can be used to provide analytic insights, data driven decision making, and improving efficiencies within the business.
While it is not common for a chatbot to contribute directly to the revenue stream (unless it's part of the middle of the sales funnel), direct ROI may not be feasible to calculate. Metrics that should be tracked in order to showcase the effectiveness of your chatbot include, but is not limited to:
Size of the audience
Average session duration
Number of sessions per user (people coming back)
Confusion triggers and missed intent
In a future post, I'll be sharing with you details on what I would recommend to use to track success and adoption, including a business value report that you can share with leadership to track the effectiveness of your bot.
End User and Consumer Value Proposition
Users and clients using a company's chatbot will assume a frictionless experience when engaging with the brand. From 24 hour availability, instant transactions, personalized and interactive user journeys, and the patience of a chatbot, businesses will find that users will be more satisfied in scenarios where they originally would have had to engage a human representative.
Value Proposition for businesses
Value propositions for implementing chatbots for business include:
Improved user satisfaction – Users will have the ability to interact frictionlessly with the company, making find answers to their concerns easier and more immediate.
Increased user engagement and sales – Chatbots provide an engagement channel that can be leveraged to continually follow-up with just-in-time marketing, thus helping increase conversion rates on sales. Relationship marketing and increased retention rates will be benefits that will be gained by implementing a chatbot.
Better lead generation – Chatbots provide a way to get a deeper understanding of new potential users and customers by providing context on the type of questions new clients are asking, which in turn can be used to help with marketing and sales to try and continually segment the audience to create messages that will better convert.
Handling capacity and customer support cost savings – Being able to allow the chatbots to be the first tier to customer service support will enable you to place your human support on working on more complex queries.
Internal knowledge sharing and faster onboarding – Chatbots can also be implemented internally help automate tasks by solving problems like password reset parsing emails, grant access to software, and much more.
Cost effective – Hiring a human for any career in your business is not a cheap endeavor. Chatbots can easily communicate with users and customers without the need for a human interaction.
Alternate sales channel – Chatbots are a great sales channel to sell your products and services. Chatbots can easily remember user preferences, and continue to tailor and nurture the conversation until conversion (and follow up even then).
Value Proposition for Users, Clients, and Potential Customers
Often, this gets overlooked when developing a business case for implementing a chatbot. Taking a look at chatbots from a user perspective allows you to gather the experiential analysis that can't be quantified.
Improved user and client satisfaction – An increase in customer satisfaction ultimately leads to an increase in rapport, client advocacy, and sales conversions.
Increased user, client, and potential customer engagement – Bots can be leveraged to provide a personalized experience in order to get the right answer to the user seeking the information.
Proactive customer interaction – This is the ability to respond and initiate conversation with each customer, regarding any issue, at anytime of day making it feel like your company is staying ahead with the trends in technology.
Lead generation for new customers – Chatbots provide a great way to reach out to new and potential questions, providing different types of sales funnels that weren't available with general email or online marketing.
Analytics and customer insights – The conversation dialogue between a customer and a chatbot can reveal detailed, actionable insights on what your users and customers are asking for. This feedback will enable you to improve products, services, and any collateral to better help the next customer.
Easier approach to global markets – For global organizations, chatbots can help solve problems in multiple languages at anytime of day. This will allow the company to scale up operations into new marketings without having to worry about duplicating human capital and the customer will be better helped in their own language.
Summary
Chatbots are changing online user experiences, moving people from complex websites into a more simplified, streamlined interface that users love.
The chatbot industry is an exciting field that will be tremendously helpful to business strategists, marketers, communication managers, and innovators with the capabilities to transform our interactions with our clients, team members and the way we make decisions.
Organizations need to find those slivers of opportunities where immediate responses, natural language, and re-learning abilities can make a chatbot a solution to solving an end-user problem.
With the rise of mobile messengers and AI extensible technology, businesses can see their revenues improve, their employee engagement increase, and customer satisfaction increase if they are ready to embrace and integrate this technology in their businesses.
Related Questions
What are different types of chatbots?
Chatbots come in various forms which include whether they are built into a platform or as standalone applications as well as whether they are scripted bots or AI bots.
Messenger platforms like Slack, Facebook, and Discord provide a platform that can be built on top of which allows the chatbots to utilize the existing marketing and framework available. Standalone chatbots usually are a built on an extensible platform to include more skills.
Scripted chatbots are pre-defined with a conversational dialogue where the chatbot guides the user down a pathway.
AI chatbots use natural language processing to help answer user inputs and dialogue. The most advanced chatbots will allow the chatbot to re-train and re-learn to better enhance the chatbot in the future.
Other Chatbot Posts You Might Like
Many of the links on this blog are affiliate links. ChatbotBusinessFramework.com receives a small comission when certain items are purchased, but the price is the same for you. ChatbotBusinessFramework.com is a participant in the Amazon LLC Associates Program, an affiliate advertising program designed to provide a means for sites to earn advertising fees by advertising and linking to Amazon.com.