Learn all about what a Conversational Designer is and how you can start your career in conversational design.
Conversational design relatively newer industry that brings together linguistics, heuristics, and technology into a new industry. While there is no simple method on how you become a conversational designer, there are a few strategies and tips that can lead you to a career path in this field.
Those that are currently in the field today have backgrounds in the business in which the the conversational design is used in, some have backgrounds as technical writers, while others have backgrounds in linguistics. Even if your background does not mold into these career paths, there are specific tactics and strategies you can use to open the doors up to becoming a conversational designer.
Most importantly, a conversational designer is someone who is curious about how people communicate with one another and empathetic when designing solutions to help further discussion. In addition, someone who is willing to learn the technical limitations of services that provide speech recognition, natural language processing, and natural language understanding and create solutions that provide an alternative to these limitations.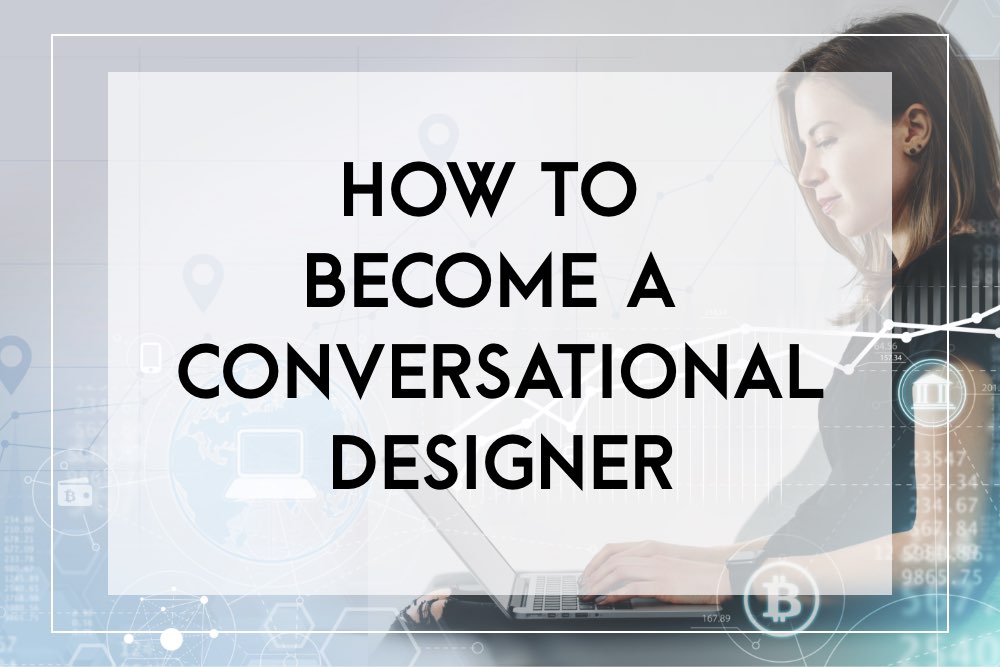 Overview About Conversational Design
It used to be that "content is king" for digital marketing. In this new era of voice assistants and chatbots, customers now are asking for a more personalized experience and want to ensure that they are understood. Now, conversation has started it's foothold on becoming the new "king" for digital marketing. With Alexa at the helm, conversational design and UI has opened this industry to a wider audience both at the customer and enterprise level.
Conversational experiences have defied the laws of programmatic design flows. Conversations are unpredictable and vary from user to user, which makes it appear that they don't seem to have rules. Conversational design is all about understanding both the science and art of conversation and linguistic understanding to design an experience that allows the system and user to better talk to each other.
What is Conversational Designer?
A conversational designer takes several disciplines like user experience design, copywriting, interaction design, visual design, and linguistics to architect a natural language engagement for an entire user experience.
Conversational designers take the process of designing an engagement, whether through voice, visual, or text-based chat, and plans out the experience to ensure that every discussion path encapsulates what type of engagement the user should expect.
What is a Conversational Experience (CUX)?
A conversational experience is the inclusion of a voice-based or chat interactions with a human that simulates a human-to-human conversation. It provides a personalized experience for a user interacting with a computer system, but allows the exchange to be in real-time and appear to be more human-like. Users are able to control what information that they give to allow the computer system to provide information quickly and easily in an easy to understand interface.
A successful conversational experience allows users to get the information they need, encourages users to continue using it to satisfy their curiously, but being able to provide information effortlessly without wasting their time while also being able to provide the business value by providing data that can be used to understand the customer better (data that would not have been available otherwise in different channels).
Day in the Life of a Conversational Designer – Day-to-Day Tasks and Activities
As a conversational designer, there are a multitude of tasks that are completed for a project. On smaller projects, these phases below have shorter cycle times. On larger projects, these phases have longer cycle times due to the increased need to work across larger integrated teams.
Categorizing Intents and Flows of a Conversation
When the user interface is established, the role of a conversational designer is to then be able to understand current conversation flows and being able to categorize and re-categorize intents and flows of an interaction and conversation. The ability to also work with software developers and data scientists in order to build personalized and predictable models is also key in becoming a successful conversational designer.
Understanding Behavior Patterns and Trends
To create a better user experience and increase the level of engagement, conversational designers should be able to understand previous user touch-points and potentially better understand the behavioral trait of each customer using data that is available through previous conversational and building a profile from there.
Designing Personalization
Creating personalizations by creating models that build on the profile from the behavior patterns and trends allows user to have a personalized experience, thus increasing engagement. This could be determining categories of users and how the generally behave as well as ensuring that you keep in mind ethics of artificial intelligence in mind and mitigating bias. While behavior patterns and trends allows you to initially create the model through data, designing personalization uses predictable models to help determine what the customer experience desires.
Using Other Triggers and Cues
Being able to utilize image processing systems and sentiment analysis services will allow conversational designers to better personalize the experience by further understanding each individual engagement. This allows companies to utilize technology with sentiment and semantics in order to create a more empathetic experience to the customer, using that information to switch the engagement as needed, and then delivering customer value through the engagement.
Designing Mockups with Conversation Paths with Sample Dialog UX
Creating designs will be close to the last process in a full project cycle. In short, a project cycle for conversational design includes understanding the user, creating designs around that understanding, and then iterating on that design with.a feedback loop. Designing and creating potential paths between the user and the background system allows you and your team to find issues early in the conversation. Designing conversations will be an iterative process, so the sample dialogs from the beginning of a project are generally a rough draft that continues to be modified through the project. This also includes designing the unhappy paths and ensuring that the inclusion of disambiguation dialog is reviewed.
These conversational design mockups can be prototyped using a variety of tools, including Adobe XD and BotMock, to create working wireframes before working with rest of the team.
Prototyping with the Engineering and Data Science Team
Working with the engineering and data science teams will allow you to see gaps in your mockup and designs, talk through other considerations like multi-modal technical capabilities (like smart displays, smart speakers, and mobile phones) and being able to incorporate that into your designs. Each channel of conversation will be a different strategy, so ensuring that you understand when and where to draw the scope line will be hugely important to your ability to deliver and ship a product.
Copywriting Using Testing, Analytics and Optimization
Being able to iterate on a chatbot's existing conversation will rely on ensuring that copywriting incorporates dialogue that is helpful, persuasive, as well as natural.
Career Challenges as a Conversational Designer
Conversational designers face the same problems that currently exist for other artificial intelligence fields. data from the user is usable. Computer systems need to have structured data, which means conversational designers need to have copywriting techniques to allow for structured
There are technical limitations of some of the services and models, which often result in an inaccurate response, issues with understanding customers context, and language requirements that cause the language to be harder to interpret (specific enterprise lingo or need to have a casual tone with the interface).
On the other hand, being able to make a user feel appreciated in a conversation will be important to ensure continued engagement. Confusion and disambiguation dialogues needs to incorporate copywriting techniques that allow the customer to be thanked as well as guided when the appropriate information is not given in the experience. This should also be aligned with the persona of the conversational UX (if one has been developed).
New conversational designers that come from a background of design or technical writing may also be challenged when asked to create KPIs to measure effectiveness of a customer conversation engagement. Metrics such as engagement rates, confusion percentages, and session rates will be important to capture and create baselines around to understand where improvements should be made.
Finding Jobs as a Conversational Designer
There are a multitude of strategies when trying to land a career in the conversational design field. Please note that the industry is continuing to expand as voice assistants and chatbots are emerging in non-tech enterprises as a way to better serve customers.
Conversational Designer Jobs at Startups versus Big Companies
When you are looking for jobs in conversational design, you don't need to be part of the large tech companies. As a matter of fact, getting into one of these jobs might be harder for those who are wanting to gain experience in these areas. Startups and smaller companies are just starting to understand their investment in these industries, and they can be an easier path that also allows you to utilize your skills across a broad range of roles.
As a former conversational designer at a mid-size company who was just starting their journey into conversational design, I was able to play about four different hats: strategist, conversational designer, program manager, and product manager. It was really fun to start as a strategist and learn all of the different skillsets that were needed on a team that felt like a startup, but in a much bigger company. It gave me many opportunities where I was able to grow my skillset and personal knowledge (especially in data analytics), and being able to add that to my resume/CV. When I started the role, I was actually coming from a program manager background with no experience in conversational design. What got me the role was my experience in understanding the business cycle along with needs for users within each phase of the cycle for what the user experience was going to be.
What to Look for in a Job Description
With this industry continuing to expand and become more mainstream, some companies may not use industry terminology for a conversational designer. You'll often find job descriptions that hint around it because conversational designer roles are just starting to become more familiar as a role. When looking for opportunities, these are some of the words you should look for in a job description:
Conversational UX Designer
Chatbot Conversational Designer
Computational Linguistics
Voice User Interface Designer
Chatbot. Writer
Content Strategist
Education as a Conversational Designer
While there are various mediums to get information around this trending industry, here are some of my favorite channels to start learning more information about this knowledge area. There's plenty of progress to be made in improving these conversational user interfaces, so you won't find a large number of university curriculums dedicated to this. Here are some channels and recommendations on where you can continue to learn in this explosive industry:
Podcasts
These are some of the more popular podcasts on this topic:
Voicebot AI
VoiceFirst FM
Blogs
These are some of the best blogs I often follow to understand the industry better. I actually use Feedly, which is an RSS Reader, to save some of my favorite blogs on these topics.
Chatbots Journal
Chatbots Life
ManyChatbot Blog
BotCore
Industry Guidelines
Google and Amazon also have some great published conversational design guidelines that are available that continue to get refined. Both are leaders in conversational design due to the rise of Google Assistants and Alexa at the consumer level. They both have large staff dedicated to this space, so that means that they are at the forefront of innovation and their guidelines continue to get updated with things they have proven.
Attend Conferences and Meetups
While this industry is still nexus, there are smaller in-person conferences and meetups with conversational designers. In addition, you will find plenty online conferences where you can network with current conversational designers and agents. It's an amazing way to learn content with real experiences behind them, current business problems and trends being solved with conversational design, and even understanding what roles might be open and available through networking.
Formal Education and Courses
If you want to go through the degree and course work route, there are plenty of courses and education out there. While these may supplement your CV/resume, it will only give you a boost if you have personal work or experience in the industry that you are applying to.
Conversational Design Online Course by Conversational Academy (Robocopy)
Introduction to Voice Interface Design (Udemy)
Voice Course: Practical Strategy & Design (Udemy)
Designing for Conversation (Amazon)
Voice User Interface Design (CareerFoundry)
Introduction to Conversational Design (Voxable)
Conversational Designer Salary
If you look online for conversational design salaries, you'll notice they vary by quite a bit. In the United States, a conversational designer with under a five years of technical writing experience and design can range between $50,000 and $75,000. For a conversational designer with business experience, writing experience, and design, the salary can range between $75,000 and $100,000. For a conversational designer with both along with data and analysis experience with over 5 years of experience, the salaries can range between $75,000 and $150,000.
Summary of How to Become a Conversational Designer
Conversational Design is a growing industry which means an area for explosive growth in careers. Chatbots, voice assistants, and support agents are finally starting to get adopted in mid-size companies, which means that there are jobs opening up constantly. In addition. Gartner, a well-respected research and advisory company, has stated that conversational design and chatbots are only beginning and has not specified a recommended partner for conversational or chatbot platforms. I believe that this is evidence that this industry is beginning to heat up and opportunities are going to be plentiful as a conversational designer.
Career-seekers that are hoping to utilize their technical capabilities with understanding how to use copywriting techniques to make sure human and artificial minds can understand each other. Conversational design is a field that is desperately needed in an era starting to embrace chatbots and voice agents. In order for human minds and artificial minds to work together and communicate, conversational designers must help improve by bridging this gap for empathic conversation in design thinking.
Other Conversational Design and UX Posts You Might Like
These are other posts that you might like on the topic of conversational design and user experience:
Many of the links on this blog are affiliate links. ChatbotBusinessFramework.com receives a small comission when certain items are purchased, but the price is the same for you. ChatbotBusinessFramework.com is a participant in the Amazon LLC Associates Program, an affiliate advertising program designed to provide a means for sites to earn advertising fees by advertising and linking to Amazon.com.